Cleo.finance understands that backtesting trading strategies is crucial, whether done manually or automatically. That's why we offer tools for both methods to help traders validate their ideas and improve their strategies.
Manual Backtesting in Cleo.finance's Manual Backtester:
Hands-on approach: You have full control over the testing process.
Simulation on the chart: You can define the range, asset, and balance for your backtest and simulate positions directly on the chart using historical data.
Position control: You can manually place positions, set stop-loss and take-profit levels, and analyze the performance of your trades.
Flexibility: You can adjust position size, leverage, and other parameters to customize your backtesting experience.
Detailed analysis: You can access comprehensive statistics and insights about your trading performance, including details of the position, order list, take profit, and stop loss.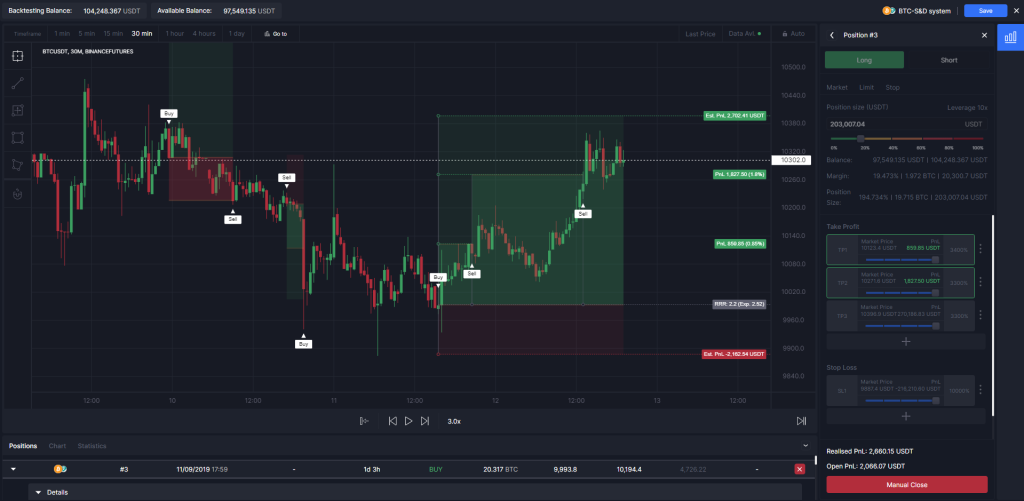 Using Automated Bot Test:
Custom entry and exit conditions: You can create and test trading strategies based on custom entry and exit conditions using the Automated Loop and Smart Trading features.
Trading bot automation: Strategies can be automated using trading bots that execute trades based on predefined conditions.
Systematic approach: Automated backtesting provides a more systematic and streamlined process for testing trading strategies.
Time-saving: Automation eliminates the need for manual intervention in executing trades and analyzing results.
Performance evaluation: You can evaluate the performance of your automated strategies using extensive statistics and analytics provided by the backtesting tool.
Comparison:
Manual backtesting offers a hands-on and flexible approach, allowing traders to have complete control over the testing process, while automated backtesting provides a systematic and time-saving method.
Manual backtesting is suitable for traders who prefer a more involved and customized testing experience, whereas automated backtesting is ideal for those who want to create and evaluate trading strategies using predefined conditions.
Both methods offer detailed analysis and performance evaluation, but the process and level of control differ between manual and automated backtesting.
Want to find out more about these two backtesting tools? Check out our blog articles here: