With Cleo.finance's Automated Loop and Smart Trading features, automating your trading strategies becomes effortless. On the other hand, every trader understands the importance of testing and validating their ideas through backtesting. However, traditional backtesting can be time-consuming and demanding. That's why our automated strategy backtesting tool is specifically designed to provide a faster, simpler, and more effective approach, allowing you to save time and effort while achieving accurate results.
In this section of the guide, we will guide you through the steps of utilizing the Automated Bot Tester tool on cleo.finance, as well as provide an overview of the various features available to traders for optimizing their strategies.
Using the Automated Bot Tester tool on cleo.finance is fairly straightforward. Enter your exit and exit conditions with the ever-expanding dataset, combine it with advanced risk controls, and view your trading setup on an integrated trading chart. Once you are content with your trading strategy, hit the "Create and Backtest" button.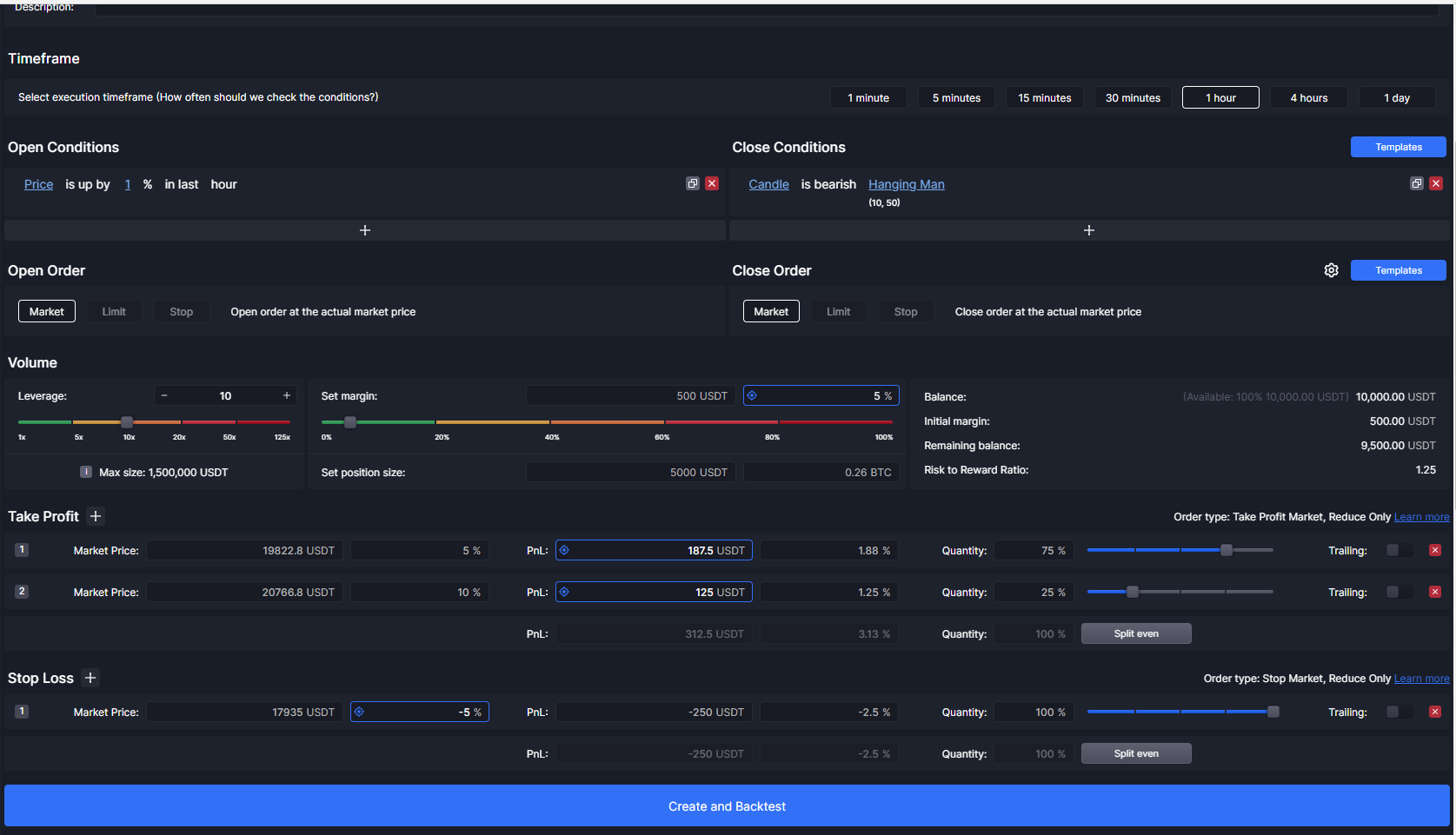 The next window is the backtesting settings. Here you can modify the initial balance of the strategy, set backtesting period, and customize the transaction costs. Click the "Create Backtest" button next and you will get your results in seconds.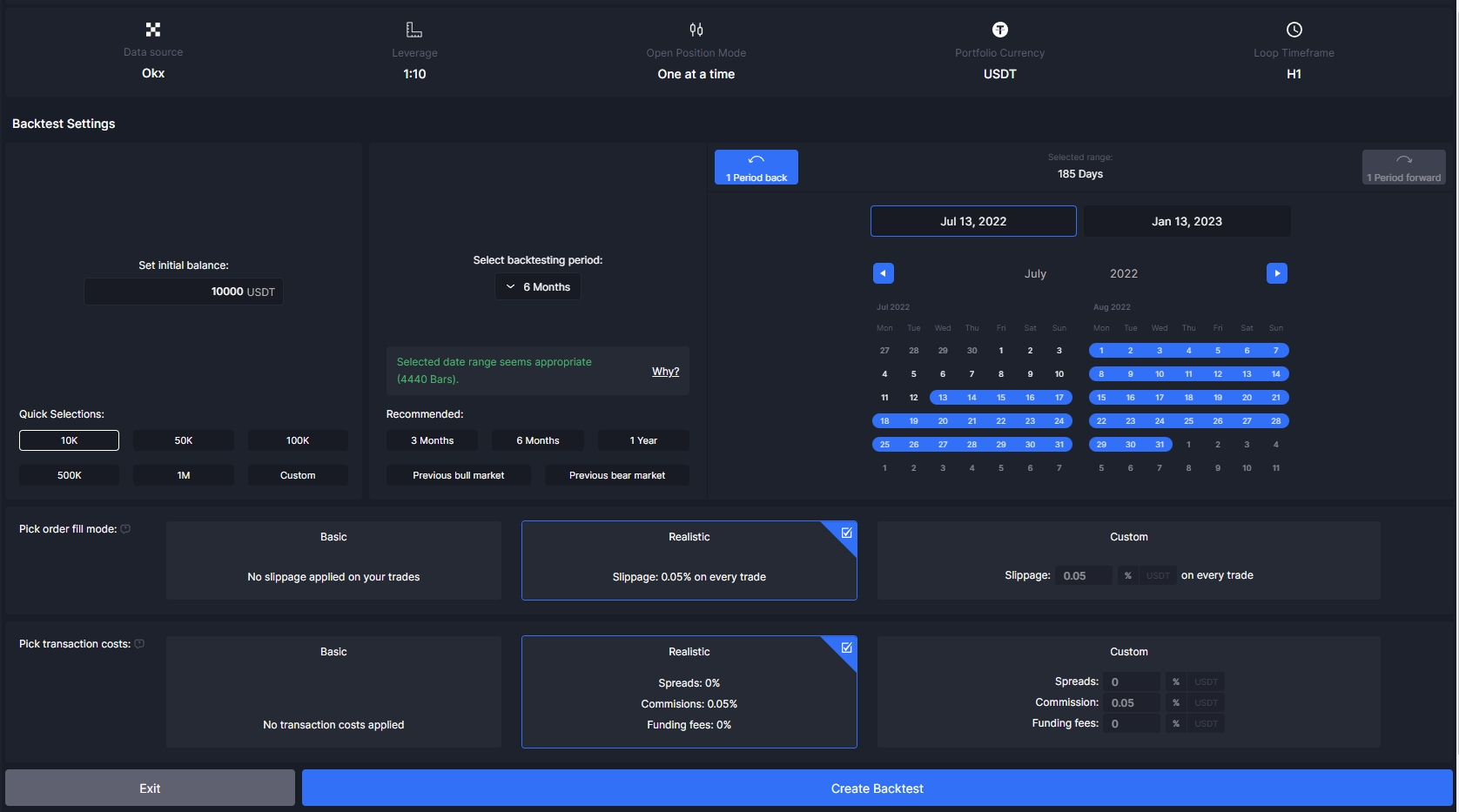 If you are satisfied with your backtest results, you can deploy it with one click by hitting the "Deploy Live" button. If not, click three dots next to it and select Duplicate.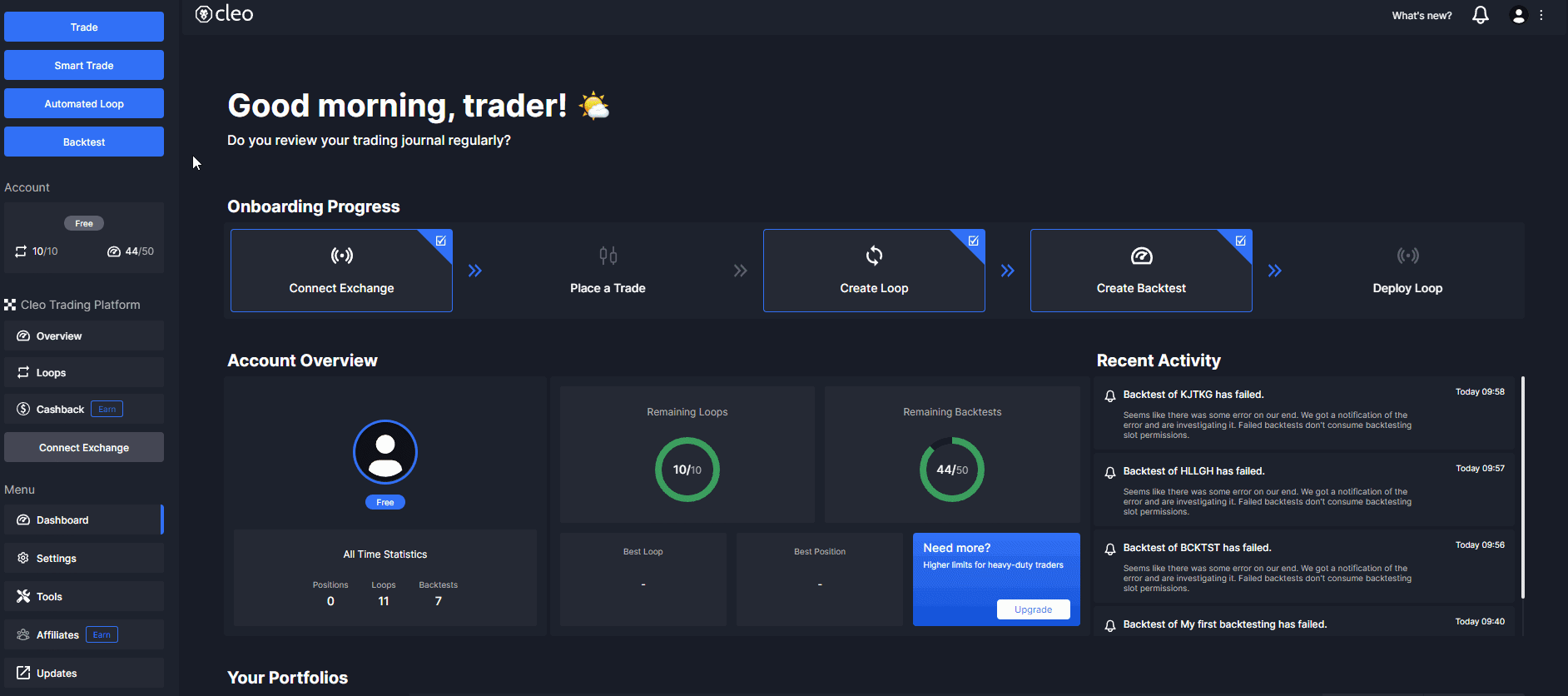 Once you successfully created your first backtesting strategy, you will be having your backtesting results in seconds with extensive statistics. The backtesting statistics result will give you:
Your total gross & net profit
Average win and loss
Your Loop (Strategy) settings – Entry&exit conditions, time frame, position, leverage, etc.
Profit factor
Sharpe ratio
Profit/Loss ratio
Sortino ratio
Your win-rate along with the total won and loss number of positions
Max PnL, Max Drawdown, trade expectancy, and much more
Explore our dedicated blog article on automated strategy backtesting to give you more insight into backtesting and the statistics.
On the results page, you can deploy your backtests in Automated Bot Test live with a single click. In order to deploy your backtests, you need to connect your exchange to cleo.finance via an API connection. Don't know how? Then feel free to check our guides, where we explained everything step by step:
How to connect your OKX Account? 
How to connect your Binance Account?
You can also duplicate and modify your automated bot tests, or start new ones. In the position history section, you can view your positions, and by clicking on them, you can replay them on the chart candle by candle using the position replay tool.
If you require additional backtests, live-trading slots, or are interested in utilizing the cleo.finance platform for your company, please send us an email. Experience the seamless efficiency of cleo.finance's user-friendly and comprehensive backtesting tool, freeing up your valuable time to focus on refining your winning trading strategies.